SPOILER WARNING: Plot details follow. Caution is advised!
Dorothea Rollins, better known as Dot, is a warlock and the downstairs neighbor of the Frays, Clary and Jocelyn. She is like an older sister to Clary and works for Jocelyn as an assistant, and is a friend and confidante to her. She had a tarot card reading booth in Jocelyn's antique store, Greenpoint Antiquities.
History
Dot had a shop in Salem in the 1690s and became one of the subjects of the Salem witch hunt. Around the early 1900s, she became romantically involved with fellow warlock Magnus Bane, who went on to become one of her dearest friends.[1]
At one point, Dot became aware that Jocelyn had the Mortal Cup, which Jocelyn hid in the Ace of Cups card in a tarot deck she gave Dot, and was in hiding from Valentine Morgenstern. Along with Elliot Nourse and Magnus, Dot protected the Frays.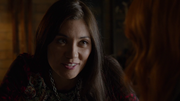 On Clary's 18th birthday, Dot gave her a top as a gift—one which Clary used later that night. Dot was evidently concerned about Clary, particularly the things she expected her to know soon.
When members of the Circle showed up at their home later that night, Dot received a call from Magnus to warn them. She immediately told Jocelyn and she handed her the potion that would send her into a deep sleep. Dot opened a Portal for Clary, and when she was safe, Dot tried to confront the rogue Shadowhunters, only to be matched and thrown out a window.[2]
After the encounter, Dot rushed back to the apartment and put glamour over the place to prevent the mundanes from seeing the chaos. She also found Luke Garroway taking some of their things to hide and prevent Clary from being tracked. She later went to Magnus, hoping to ask for his help, only to see him escaping to his lair with other warlocks. Dot refused to join him, wanting to continue her search for Jocelyn and Clary.
Outside the Pandemonium, Dot was taken by the Circle members and brought to Chernobyl to Valentine. Valentine proceeded to torture her with injections from his experiments when Dot insisted that it wasn't her who made Jocelyn's sleeping spell and would be unable to reverse it. Dot later escaped her cage and was approaching Jocelyn, trying to comfort the unconscious woman by telling her how Clary was, but before she could do anything else, Emil Pangborn attacked her. In an act of defense, Dot blindly stabbed him with one of Valentine's injections. She was again freed momentarily, only to be caught and apparently killed by Valentine afterwards.[3]
Magnus later attributed his inability to sense her magic to her death, which he relayed to a devastated Clary.[4] Unbeknownst to them, Dot was still alive, kept by Valentine for her magic but subjected to his injections for his experiments.
A few weeks after she was imprisoned, Valentine sent Dot back to New York to kidnap Clary. She found her outside the Brooklyn Academy of Art and Portaled back to Valentine's ship with her. Under orders from Valentine, Dot put Clary under a spell that made her susceptible to suggestion—basically under Dot's control—but after a conversation, Clary convinced Dot to help her and Jace escape the ship. When they needed it, Dot put down the ship's wards with her magic.[5]
Some time after, Valentine brought Dot with them as he and his men stole the Soul-Sword from the City of Bones. Dot created a Portal for their quick escape.[6]
Skills and abilities
Immortality: As a warlock, Dot was granted immortality. She had maintained the appearance of a young woman for years.
Appearances
Trivia
The character is significantly different from her book counterpart. The differences include:
References