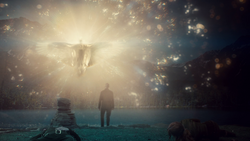 "
The destruction of the souled creatures of the Downworld and of our own Nephilim? That is not Heaven's wish. But thou who spills thy blood, thou shalt compel from me an action.
"

–Raziel, Beside Still Water
Raziel is a powerful angel and patron of the race of Shadowhunters, who revere him almost as a deity. He resides exclusively in Heaven alongside his angelic brethren but he can be summoned to the mortal plane through a dangerous ritual.
History
Raziel is the third-oldest of the five Archangels; younger than Michael and Lucifer but older than Raphael and Gabriel. He is credited as being present when demons first emerged on the Earth, making him millions of years old at the very least. Renowed for his great wisdom, he played a prominent role in the subsequent war for the original expulsion of demonkind from the Earth both as a commander in the celestial legions and a soldier under his brother Michael. When mankind was created, Raziel obeyed God and bowed to the new race without question, for he saw within them great potential.
Raziel is credited as the creator of the race of Shadowhunters, human-angel hybrids bestowed with limited basic angelic powers and abilities to combat the race of demons in the mortal plane. As part of the agreement, Raziel gave to them the Mortal Instruments[1][2]; among them the Mortal Cup, from which he had the first Nephilim drink his blood, thereby letting all Shadowhunters, even those descended from the first ones, have some of his blood running through their veins.[3] The first Shadowhunters who drank his blood had a special connection with him that gave them visions, a form of distant communication with the angel.[4] Raziel's blood also gave them the ability to mark themselves with runes, markings that granted them further magical abilities.
With the Nephilim safeguarding the Earth, Raziel remained in Heaven for thousands of years watching the Shadowhunters from afar and listening to their prayers. He was never seen nor heard from by the Shadowhunters in any way until one fateful day in 2017 when the rogue Shadowhunter Valentine Morgenstern reassembled the Mortal Cup, Sword and Mirror and used them to summon Raziel to the mortal plane at Lake Lyn in Idris. Upon dropping the sword and cup into the lake, Raziel appeared in a blinding spell of golden light in his true winged form though his face remained obscured. Valentine demanded the immediate death of all demon-blooded beings and the 'disloyal' Shadowhunters who defended them, to which Raziel denounced as being against Heaven's wishes; yet he could not refuse to do so if Valentine compelled a wish from him, a condition of the summoning ritual that Raziel had to fulfill. Valentine's plan was derailed however by his daughter Clarissa, who took the wish for herself and instead begged for her love Jace Herondale, whom Valentine had murdered, to be resurrected. Raziel granted her wish and then returned to Heaven.
Personality
Very little of Raziel's inner personality is known or has been revealed thus far. As a higher being, he appears largely unconcerned with the machinations of his Nephilim on Earth and seemed mostly indifferent to Valentine's request for the complete annihilation of the Downworlders despite the fact that they possessed human souls. He was equally stoic in the face of a distraught and grieving Clary Fray when she tearfully begged him to bring back Jace and was quick to remind her that he could only grant one wish.
Appearances
Etymology
Raziel is an Aramaic name meaning "God is my secret." It is also the name of an archangel within the teachings of Jewish mysticism, otherwise known as Kabbalah.
See also
References