All the legends are true.
Welcome to the Shadowhunters wiki!
The wikia for the hit Freeform TV series, Shadowhunters: The Mortal Instruments,
based on The Mortal Instruments by Cassandra Clare.
You've entered the Shadow World.
Warning! This wiki reveals plot details. Read at your own risk!
Several pages on the wiki are still being cleaned up post-import from the main wiki, and the images and videos have yet to be uploaded here. Please bear with us during this finalization process.
We currently have 347 articles and 1,257 images.
(Please attribute the wiki in any way when chunks of text are taken from the wiki articles in verbatim and used elsewhere.)
---
If you're new to Wikia, below are some links to help you get started:
---
This is a sister wiki of the main Shadowhunters wiki; this wiki will focus only on the TV series.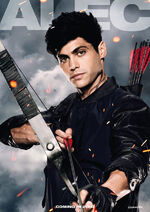 Alec Lightwood is the current head of the New York Institute. He is the eldest brother of Isabelle and Max Lightwood and the parabatai of Jace Herondale. Alec is responsible and a leader who cares for the well-being of his people.
After a change of heart about Downworlders, Alec came to see them differently and is now among the few Shadowhunters wanting to fix their alliance, to work together and be completely upfront with the Downworlders. He is currently dating the High Warlock of Brooklyn Magnus Bane.
(more...)
---

Freeform's Shadowhunters official site
Shadowhunters on Facebook
Shadowhunters on Twitter
Shadowhunters writers on Twitter
Shadowhunters on Instagram
Shadowhunters on Tumblr
Shadowhunters on Pinterest
Shadowhunters on Youtube
Shadowhunters at IMDb
The Shadowhunters' Wiki on Twitter
The Shadowhunters' Wiki on Tumblr
The Shadowhunters' Wiki on Instagram
The Shadowhunters' Wiki on ask.fm
Wiki Facebook page and group




Season 3 will return on April 3, 2018!
April 3, 2018 19:00:00 CST is here!... coming soon!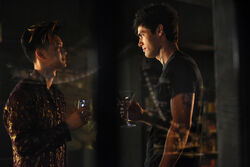 Magnus and Alec having a drink in Of Men and Angels.
---
---

Which Season 2B episode was your favorite?

"
Dressed? What are you doing undressed in an abandoned church? Clary, is there... is there a meth problem we need to talk about?
"

–Simon to Clary, The Mortal Cup
see previous..

Did you know...
... that Matthew Daddario (who now portrays Alec Lightwood) originally auditioned for the role of Jace Wayland, and that it had been Cassie herself that suggested that he would instead make a "perfect Alec"? He also auditioned for the film!
---

Loading RSS data...
Ad blocker interference detected!
Wikia is a free-to-use site that makes money from advertising. We have a modified experience for viewers using ad blockers

Wikia is not accessible if you've made further modifications. Remove the custom ad blocker rule(s) and the page will load as expected.